Today we're talking about  tips that will help you build a snazzier outdoor kitchen design. These tips come directly from top kitchen designers which you can use to create an outdoor kitchen that's both beautiful and oozing with convenience.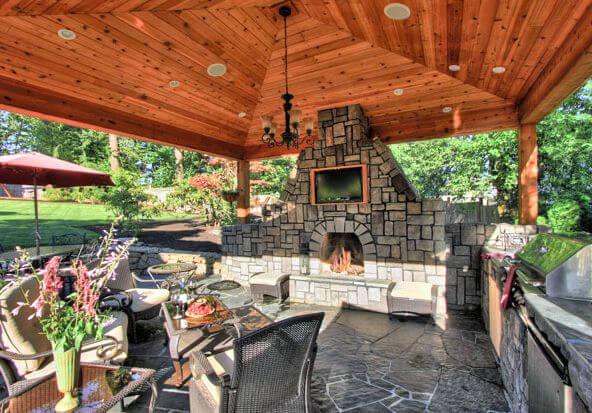 1.  It's always good to follow basic kitchen design principles. If you don't have prior experience in kitchen designing, we suggest you get professional help. There should be designated areas for refrigeration, grills, cooktops, drainage system, preparation counter and storage. All of this needs to be designed ergonomically and systematically so that they all beautifully bring together a highly functional outdoor kitchen.
2. The main difference between an indoor and outdoor kitchen is that with the latter, shelter, durability and exposure to outdoor elements come heavily into play. One other major difference might be utilities, water for example, that needs to be set up. There are less walls and mostly the equipment in the kitchen pretty much defines its boundaries. There are additional cooking options when it's outdoor, such as smoking and open-wood flame. It's very important to consider what you can bring or install outdoors from your indoor kitchen.
3. When you're buying equipment for your outdoor kitchen make sure it's low-maintenance and corrosion-resistant. The equipment will be exposed to elements of nature and should be easy to clean. Don't go with natural stone counters because they demand regular weather protection. Instead, go with cultured granite which also has UV stabilizers. Avoid porous material like limestone and tile countertops. Use sealed pavers or concrete for flooring.
4. Plan in accordance with your home's architectural layout. All the countertops and equipment needs to match your home as it's all out in the open. If there is a fireplace, then that's an excellent anchor. You can go with arbors, pergolas or merely the canopy of a shade tree to go over your heads.
5. Don't forget about utilities; you might face certain restrictions in your planning if you consider the layout of utilities. What you should do is incorporate them instead of just planning around them. Your outdoor kitchen is useless without proper connections of water, gas and electrical supply.
6. Entertainment is a big factor while designing a snazzy outdoor kitchen because that's part of the appeal. Make sure there is a proper setup to provide rain shelter, heaters and adequate shade from the sun. You can use pergolas, shade trees or awning over the dining or cooking area. Go for outdoor-rated vent hoods instead of awning or combustible ceilings over an outdoor grill. Use natural gas patio heaters under pergolas and eaves. You also have the option of having portable propane patio heaters.
7. Pick out a TV that has better viewing angles and brightness levels during the day. Also, make space for a music system and other forms of entertainment so that nothing looks out of place.
8. Your outdoor kitchen needs to be designed in a way that it doesn't look out of place. Aside from that, it should also add value to your overall home. If your home has landscape lighting then you need to design your outdoor kitchen's lighting system in a way that it resonates with that. There should be ample visibility for cooking and dining.There you go. Incorporate these top-notch tips to a snazzier outdoor kitchen design. No matter who you hire to build your outdoor kitchen, we believe it's necessary that you understand the factors that go into a cozy and lavish outdoor kitchen.