PERGOLA TYPES
An outdoor pergola is an ideal structure to embellish any backyard with the perfect centerpiece. The versatility of each customized wooden structure offers homeowners with a way to increase their property's value while improving the aesthetic beauty of their home. Pergolas can elegantly extend the walls of your home to provide a cozy outdoor living space that is both warm and inviting. Show off your green-thumb by safely growing plants along the top of a stand alone pergola. The natural weave of overhead vegetation will create a blanket of color that changes with every season. Pergolas offer endless possibilities and each one can be curtailed to meet your specifications.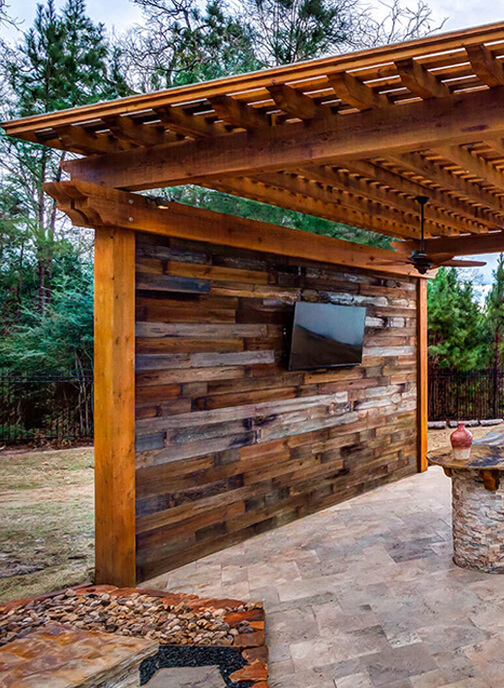 BENEFITS & FEATURES OF PERGOLAS
An often overlooked benefit of owning an outdoor pergola is the shade it provides. The wooden structure's lattice-like roof shields occupants underneath it from the sun's harsh rays throughout the day, without inhibiting moon viewing activities at night. Due to this unique sky viewing feature, pergolas are a great way to highlight the potential of an outdoor pool area. Classic pergolas can also be doubled up to create a delightful display of woven cedar wood. Top this custom creation off with a roof of your choice to establish a pronounced outdoor living style that is sure to please.
Our pergolas are specifically engineered to create the perfect backyard centerpiece, regardless of your max budget. Enhance your home with a custom built pergola to create the optimal outdoor living space that family and friends will be delighted to share with you for years to come.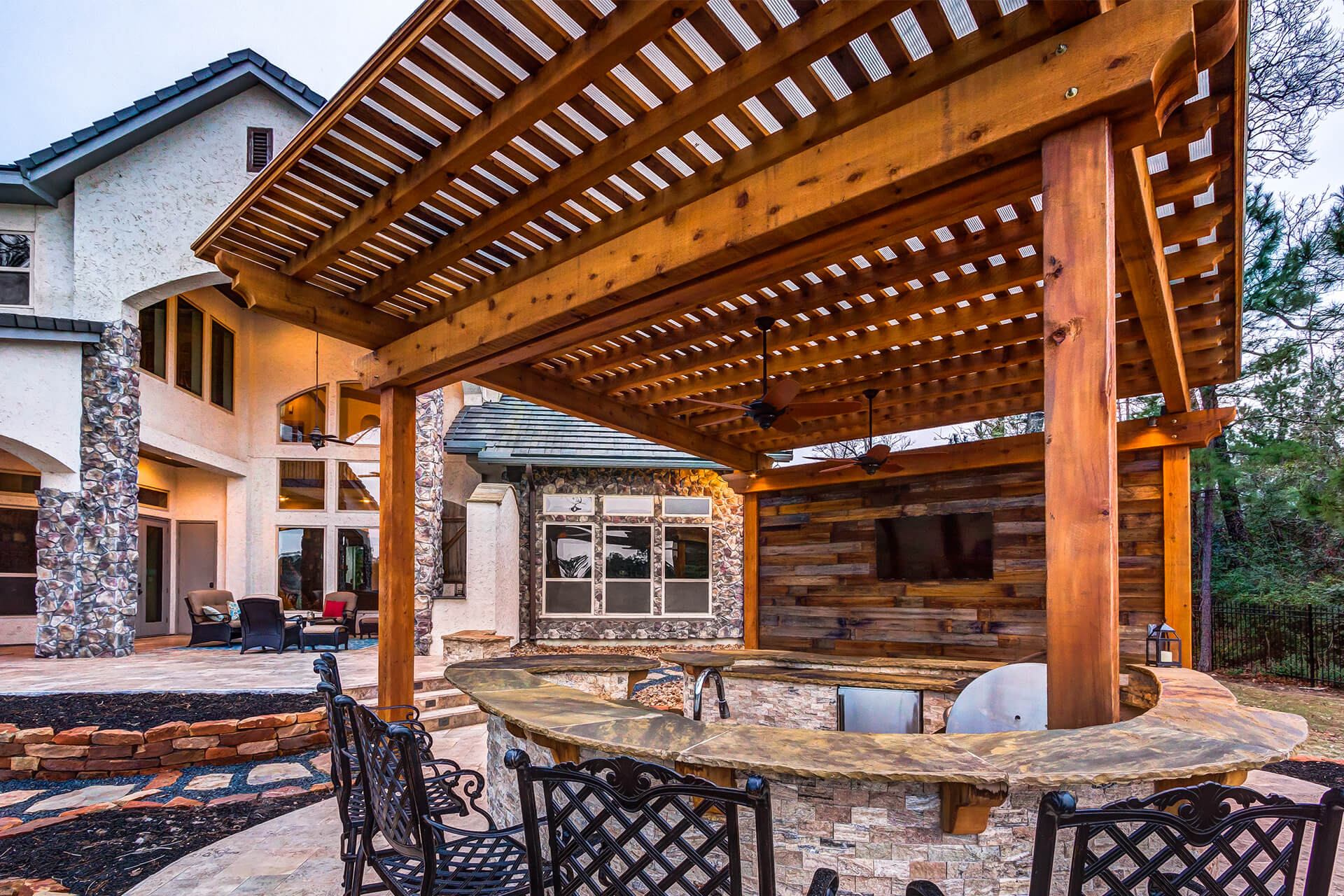 Stained Cedar
Shelter freshly paved patio area with a sturdy pergola that is supported by thick, stained cedar beams.

Carved On-Site
Elegantly tapering off into custom corbels, the outer beams provide onlookers with a visual example of sophistication.

Chiseled Edge
Carved on-site by our artisan masons, the curved flagstone counter top features a chiseled edge that is one of a kind.

Outdoor Kitchen
Split face travertine counter features a fridge, stainless steel sink, Blaze grill, and storage compartments.

Backdrop Wall
Repurposed cedar wood from a locally torn down fence creates a rustic backdrop that elegantly accentuates the area.

Hidden Wiring
Topped with a bronze polycarbonate roof, the double stacked pergola features ceiling fans and customized lighting.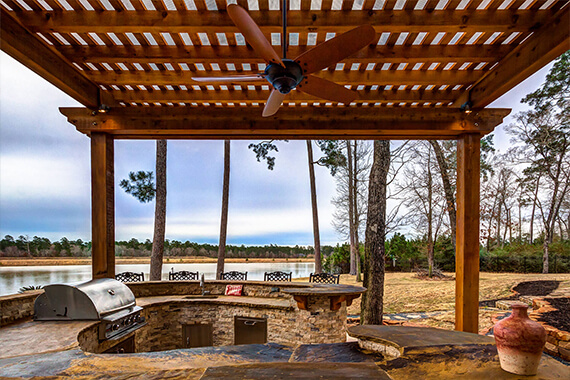 SPACES AND STYLES
From traditional to modern and from old to new, our designers have the experience and expertise to craft incredible outdoor spaces no matter the style. Each job is different, which is why we take pride in the flexibility our designs offer.
Our pergolas are specifically engineered to create the perfect backyard centerpiece, regardless of your max budget. Enhance your home with a custom built pergola to create the optimal outdoor living space that family and friends will be delighted to share with you for years to come.
Pergola Design Process
An outdoor pergola can be custom designed to suit your personal needs, regardless of whether you are seeking a simple or elaborate backyard embellishment. Our professional design team is up to the challenge of helping you determine which pergola style will adequately complement your personal outdoor living space. Then, we consolidate this valuable information into a blueprint that satisfies both building and environmental restrictions. From there, our design team builds upon this framework to intimately sculpt your ideal backyard centerpiece. We take pride in providing high-quality craftsmanship and using the best building materials throughout the entire process. By following this professional business standard and strict regiment, we consistently construct outdoor pergolas that aptly match the desired result.
Why Are Pergolas Perfect for Houston?
A personalized pergola accentuates a backyard throughout the year, regardless of the season. Look forward to spending a steamy summer day comfortably in the shade of your personalized pergola. Marvel at the gorgeous scene created by mother nature during the winter, when a blanket of snow gently drapes across the top of your cedar pergola. Throw exciting parties in style underneath a pergola that's fully equipped with illuminating mood lighting.
Why Choose Custom-Built Pergolas?
The versatility of the classic pergola offers a wide range of functionality for all hobby enthusiasts. From swimmers to gardeners, a custom-built pergola provides the sturdy backbone of any sophisticated outdoor living space. Our seasoned team is ready to construct your custom pergola to specifications, in a timely, professional, and well-organized manner.
Warranty
We currently offer warranties on workmanship and materials for up to one year on all outdoor kitchens, outdoor living spaces, and custom work. We are committed to assuring not only the quality of the work, but on the happiness of our clients. If the finished product doesn't meet or exceed your initial expectations, we hold ourselves accountable.
This excludes specific product performance and function, as they each come with a predetermined manufacturer warranty.
Perfect Your Pergola
Build the ultimate private paradise. Equip your outdoor living space with accessories and features that will enhance your life. Spend long summer days comfortably grilling under your pergola. Cherish the night by celebrating milestones by an open fire. Throw migrating parties by loading up Yeti gear with delicacies made on the Big Green Egg. Find all of the pergola accessories you need by browsing the selection below.
Want to avoid waiting for your accessories to be delivered by mail? Visit our fully stocked retail store today.
Showing 1–6 of 173 results
Speak with a Designer
Meet with your design experts to find the perfect style and fit for your outdoor space.
Customer Stories
"I highly recommend Creekstone Custom Living. They are extremely professional and strive to meet your particular needs. It is truly a custom job."
---
Creekstone Outdoor Living
2017-10-31T08:37:52-05:00
"I highly recommend Creekstone Custom Living. They are extremely professional and strive to meet your particular needs. It is truly a custom job."
https://www.creekstoneoutdoors.com/testimonials/testimonial-01/
"Sam Hickey and Creekstone Outdoors is an exemplary company with excellent customer service and satisfaction. I HIGHLY recommend Creekstone Outdoors! You will be in awe of the finished project."
---
Creekstone Outdoor Living
2017-10-31T08:38:21-05:00
"Sam Hickey and Creekstone Outdoors is an exemplary company with excellent customer service and satisfaction. I HIGHLY recommend Creekstone Outdoors! You will be in awe of the finished project."
https://www.creekstoneoutdoors.com/testimonials/testimonial-02/
"Excellent design and execution. Responsive customer service after construction. We receive lots of compliments from our guests."
---
Creekstone Outdoor Living
2017-10-31T08:38:50-05:00
"Excellent design and execution. Responsive customer service after construction. We receive lots of compliments from our guests."
https://www.creekstoneoutdoors.com/testimonials/testimonial-03/
"They did a professional, timely, and beautiful job."
---
Creekstone Outdoor Living
2017-10-31T08:39:32-05:00
"They did a professional, timely, and beautiful job."
https://www.creekstoneoutdoors.com/testimonials/testimonial-04/
"They listened to what we wanted and collaborated with us rather than trying to tell us what they wanted to build. In addition, we also had a very tight time frame for completion and they made it happen! Although I do not practice, I have an architecture degree and spent my college years interning with custom home builders and I can honestly say that their quality and attention to detail is top notch. I would build with them again without hesitation!"
---
Creekstone Outdoor Living
2017-10-31T08:40:13-05:00
"They listened to what we wanted and collaborated with us rather than trying to tell us what they wanted to build. In addition, we also had a very tight time frame for completion and they made it happen! Although I do not practice, I have an architecture degree and spent my college years interning with custom home builders and I can honestly say that their quality and attention to detail is top notch. I would build with them again without hesitation!"
https://www.creekstoneoutdoors.com/testimonials/testimonial-05/
0
Creekstone Outdoor Living